Email:
info@sunfieldaccom.co.uk
Tel:
(01457) 874030

Address:
Sunfield Stables
Diglea
Diggle
OL3 5LA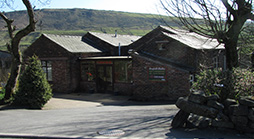 Sunfield Accommodation, is located in the Northwest of England, which overlooks magnificent views of the Saddleworth Moor on the edge of the Pennines and offers high quality en-suite bed and breakfast accommodation. There is ample secure private parking and a village pub just a short stroll down the lane offering excellent food and drinks. We are within 30 minutes from Manchester and 10 minutes from the M62 motorway.

Sunfield is situated in Diglea which is an old weaving hamlet that lies at the end of the Standedge canal tunnel. The Standedge canal tunnel is the longest and highest canal tunnel in the country. Diglea is reputed to be the first settlement in Saddleworth.
Grazing facilities are available for horse riders wishing to travel the old pack horse trails or explore the scenery and heritage of the Pennines. The Pennines Bridleway is a short distance away. The area is very popular with families coming at lambing time and bottle feeding the lambs, or autumn when the calves are born.
Breathtaking views, rich local history and a warm welcome are guaranteed when you visit this delightful area deep in the heart of the Pennines.
Below is the view from the Dining/Lounge and the conservatory area

Click the image to view the Full size